Modern fabrics have nothing to envy to leather, they are designed and manufactured to create a variety of styles in decoration, without losing their practical function with fabrics you can be more creative and innovative with decoration, fabrics tend to have more designs wide and varied of which a leather sofa can offer.
In addition, the fabrics offer the greatest advantage that with them cheap fabric sofas can be manufactured, the costs of manufacturing with fabric is much lower than that of a piece of leather, and if we want to protect the environment we will be doing nature a massive help when choosing fabrics over leather for our homes.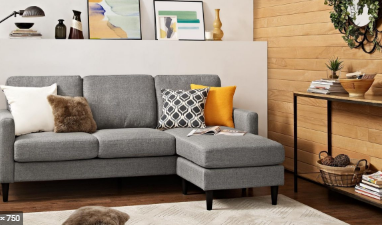 When selecting one of the many models of fabric sofa we can look at some particular characteristics of its manufacture to know if we are facing a good piece, one of the details that we should never overlook refers to the structure of the sofa, if you are looking one that will last for a long time in good condition, then you should look for a sturdy and strong frame.
The structure represents the architecture of the sofa if it is solid then it is a guarantee of durability and resistance. The next thing to take into account is the quality of the fabric, if it is easy to wash and resistant to stains, it will be able to withstand the daily treatment at home, and finally the design of the furniture, which is consistent with the characteristics and dimensions of your living room or the space you have allocated for it.
If you are looking for cheap sofas make sure you find the best, if it is possible that a sofa meets all the characteristics mentioned above and also has an accessible price, having a quality piece at home does not have to cost more, experience says that it does not quality is always associated with a higher price.
It is advisable to always be clear about the place and size so that the sofa fits perfectly, remember also to study the possible combinations and whether to achieve the dream space.